Several years ago, we collaborated with Carol to create a custom Mrs. Claus wig for her. Carol's wig was one of the earliest Mrs.Santa wigs we created and it was a joy to produce. We are so pleased to feature Carol and her Mrs. Claus work in our client profile this month and are grateful to her for sharing her story and for all the joy she spread each Christmas!
---
If you'd like to learn more about our custom wigs for Mrs. Santa, check out Mrs. Santa's Salon. Custom orders for 2020 are now open!
Visit our Santa page for information on custom beards and wigs for Santa.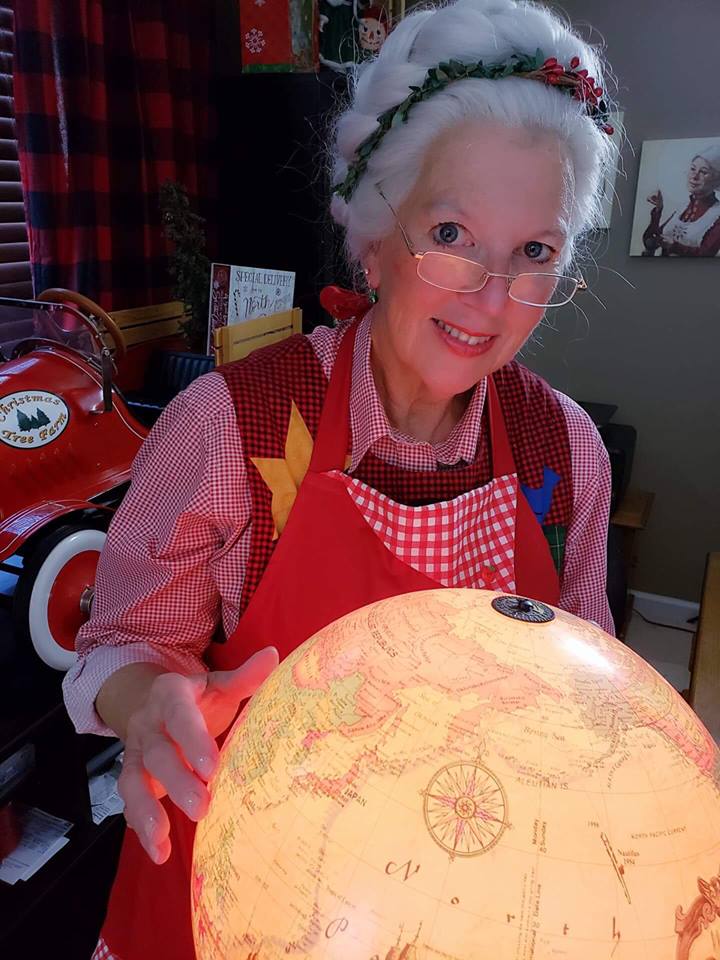 CWC: How long have you been portraying Mrs. Claus? What drew you to the work of being Mrs. Claus?
I've been portraying Mrs. Claus since Holiday Season 2014. Working at a public library, I really loved the excitement of the children during the Christmas season when they came into the public library where I worked. With retirement coming and having no small children in the family, I was dreading the holidays without seeing the joy on their faces. Then I saw an article in the local newspaper about the
CWHoward Santa Claus School
in Midland, MI. I hadn't known that there were Christmas performers outside of those at malls or holiday programs. This was a way to keep feeling the excitement of Christmas through the eyes of children, and I made the decision that this is what I would do in my retirement.
CWC: What's your favorite part of being Mrs. Claus? And the biggest challenge?
My favorite part of being Mrs. Claus is seeing the joy brought by Mrs. Claus to children of all ages; seniors, parents, teens, etc. show their happiness as much as young children do. The strangest thing has been, even though I am exceedingly busy during the season, my stress level has gone down.
Since I am a solo Mrs. Claus, one of my biggest challenges and joys has been working with a variety of Santas. Each is unique and I need to adapt to their style so we create a believable loving couple. Another great challenge is to not overextend myself, and to remember to maintain a good life/commitment balance.
CWC: Do you make and design your own Mrs. Claus attire? Do you have a favorite outfit?
Mrs. Claus, like anyone else has a variety of outfits. Some have been created from thrift store items, some purchased from a Claus seamstress, and others were sold as Mrs. Claus attire. The outfits range from very traditional to casual to maybe a bit eccentric or modern. When Mrs. Claus goes out, she is dressed appropriately for the event and feels as comfortable in her clothes as I feel in what I would choose to wear. In the summer, I enjoy wearing my holly skirt and red Converse sneakers with the green bells. In the winter, I love the green wool coat with the fur.
CWC: Who are some of the groups or organization you work with as Mrs. Claus?
Much of what I do is for charities, including libraries, preschools, churches, farmers markets [Santa needs stay healthy and eat vegetables and fruit, if he is to enjoy all those cookies on Christmas Eve], family/rescue missions, toy giveaways, photos with pets fundraising, etc. I also do home events and parties, and the Santa Experience with a photographer – I've selected ones that have an especially deep meaning.
CWC: Is there anything you'd like to say about your experience as Mrs. Claus or anything you think readers might find interesting?
I am a solo Mrs. Claus, so I've had the opportunity of working with many Santas; 7 different ones in 2018. It also means educating people on the things that Mrs. Claus can do without a Santa. I am blessed a fantastic husband who is not Santa but plays in a swing band, so his holiday is spent bringing joy through his music. He understands the importance of what I am doing.
Mrs. Claus has given me amazing opportunities to meet many loving, generous people; to learn from other Christmas performers; to present her on both television and radio; and to step out of my comfort zone, reaching out to groups that may have never thought of having Mrs. Claus attend their event. To be able to share the joy, wonder and fun of the Christmas season all year round has created a sense of well-being over my entire life.
I never realized how many Christmas performers there were and as well schools offering opportunities to learn and grow. I strongly recommend to anyone considering becoming a Christmas performer to attend one or more of the schools, and join a local organization. It is important to know your back story, as you will be amazed by the questions asked about Santa, the North Pole and Mrs. Claus [including – Is that your own hair? Shout out to Custom Wig Company, as in my head I'm saying "Yes, I paid for it."]. With each school and group meeting I attend, I have met people who have become some of my dearest friends and strongest supporters. Imagine an entire world within our everyday mundane world, filled with Christmas love and people willing to share their knowledge, expertise, and love.
And it is just so much darn fun!!!!!
on on Facebook at https://www.facebook.com/MrsCarolClaus/