Custom Santa Wigs & Beards
We create the very best custom Santa beards and wigs this side of the North Pole.
The right historical wig for your favorite era (or eras!)
Because the term 'historical wigs' encompasses a vast expanse of era, styles, and personalities, it's impossible to categorize them all here. Suffice to say that we haven't yet met the historic hair style that we aren't excited to recreate.
This includes eras when no well-dressed gentleman or lady presented themselves without an elaborate – and often frankly fake – coiffure, as well as discreet wigs or facial hair used to help a modern citizen present a realistic and believable hairstyle from the past. We also create wigs that are historically inspired but not necessarily period-correct – think styles for fancy dress balls and parties.
Your historical costume is a labor of love and one of our wigs will give you the perfect hair to finish out the portrayal. Plus, no more struggling trying to create a historic hairstyle with a modern haircut, nor trying to pile your hair into a complicated updo in your tent or hotel room – your wig will always be ready to go.
Our historical wig projects run the gamut from 'meticulously accurate' to 'loosely inspired'.
Scroll Through Our Historical Wig Client Gallery
Whether you need a wig or facial hair for living history, reenactment, stage, or hobby, we'll create a piece that meets all of your needs.
Custom Historical Wigs – Construction
Our wigs are carefully tailored to fit you, including accommodating your own hair. You can have your wig created in the same color and texture as your hair, or you can choose something else. Our historical wigs (with the exception of some 18th-century hard-front styles) have a discreet lace front that matches your hairline and skin tone. They're lightweight, durable, and natural-looking, even up close.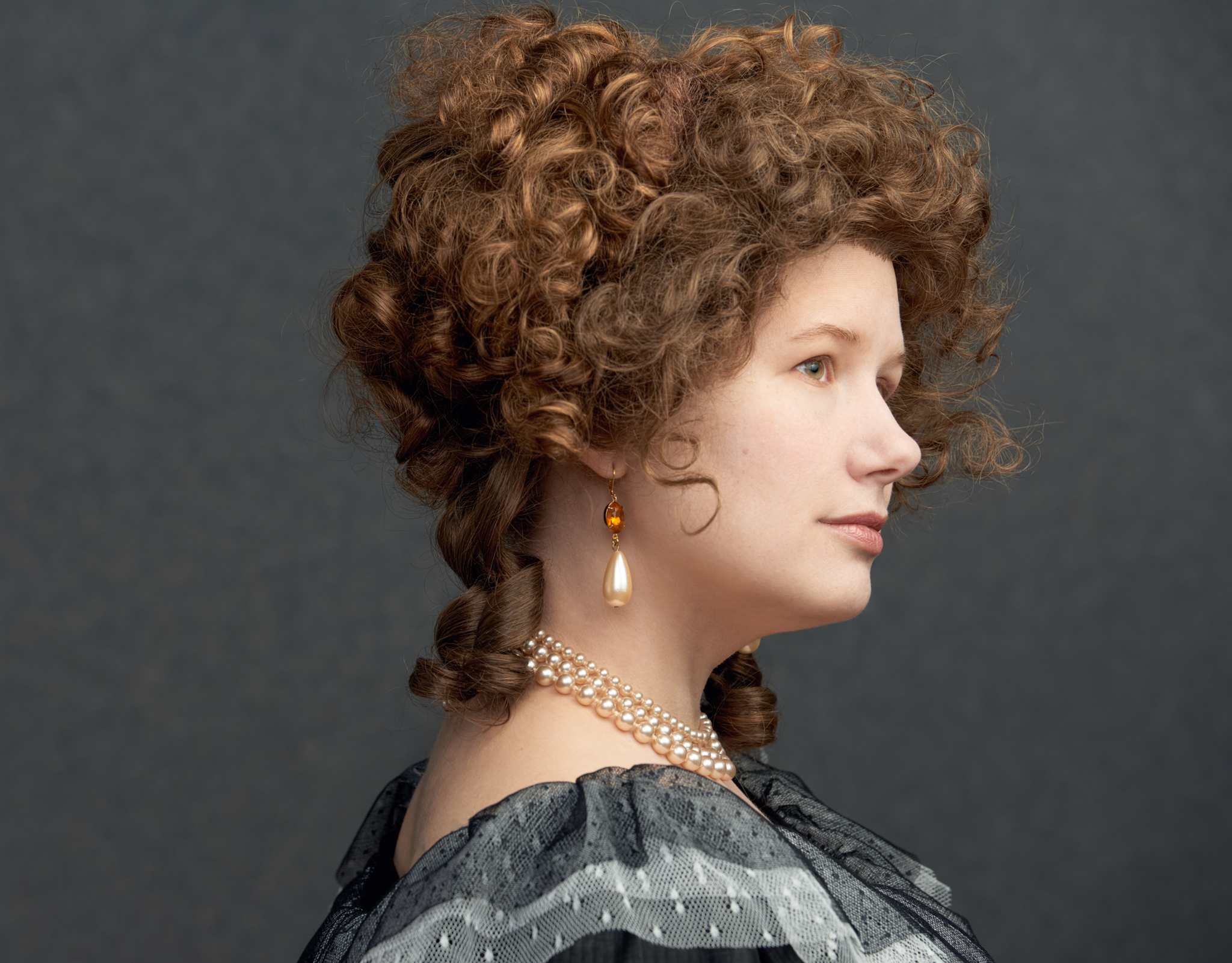 Custom Historical Wigs – Style
The sky is (almost literally, in some cases) the limit when it comes to your wig style. You can browse some of the styles we've created for other clients to see if something suits your fancy. If you've got a vision, a design, or research, we'll use that to bring your wig style to life.
Multi-Era Historical Wigs
Do you want one wig you can wear for multiple eras? We can do that! Our multi-era historical wigs are very popular due to their incredible versatility. We start by creating a custom wig for you in whatever color and texture you choose. Then you pick a hairstyle, and we dress your wig. When you're ready to change styles, you can either redress your wig at home or send it to us for our Redressing Service.
A Multi-Era Wig in Action
Hannah, Custom Wig Company's Build Manager, uses one of our discreet historical wigs in her work as a first-person interpreter. The wig was first styled in an elaborate 1822 style for the reenactment of a historical wedding but Hannah often styles it for other eras, including the Regency, the later 18th century and the Bustle era.
To maximize the flexibility of your wig, we can create custom hairpieces that match your wig. That way it's easy to add a large topknot, a row of buckles or a face-framing fringe without adding tons of extra hair to the wig or cutting it.
For a custom wig based on a specific individual, be sure to check out our Famous Figure wigs
The 18th Century Collection – Historically Constructed Wigs
We spent years researching and learning techniques and practices used by 18th century wig makers. In 2017, we introduced the 18th Century Collection. The collection includes a line historical wigs that are as close to wigs worn by men of the era as we can make them.
We invite you to take a look at these special pieces on our 18th Century Wigs page.